As a qualified assistive bathing device, plastic shower chairs with arms aid those who have difficulty standing in the shower. This is one type of disability equipment that can truly guarantee their safety and comfort while bathing or having a shower. 
Finding the right shower seat in today's market can be a bit overwhelming and confusing due to the plethora of options available. To find the right assistive bathing device, either for the elderly or for a member of your household with special mobility concerns, consider the following tips we have compiled below. 
Weight capacity: Should You Go for Bariatric or Standard?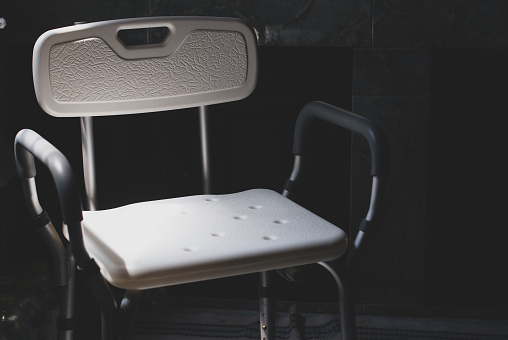 One of the first considerations a customer must look into when planning to buy a shower chair is the weight capacity. Shower chairs come in a wide range of sizes. This helps accommodate the needs of a diverse range of users; therefore, the size of the support is critical to consider.
A shower chair's weight capacity ranges from 180 pounds up to 500 pounds.
For people with a lower body mass, a standard shower commode will provide adequate stability. For overweight individuals, a bariatric model of shower chair is highly recommended.
Size: Should You Go for Compact or Basic? 
It should be noted, however, that while the vast majority of shower chairs are small and compact enough to fit in a standard bathroom or shower area, we can't just make a presumption that they all have the same dimensions.
A compact shower chair could be a better fit for limited bathing quarters. Basic or bariatric size shower chairs are likely to be compatible with standard size bathrooms/bathtubs.
We say that you need to check out your shower area dimensions first before acquiring a shower chair because it allows you to determine if the prospective chair will fit in or whatnot. 
Mobility: Should You Go for Fixed or Portable? 
Shower chairs differ in size and construction, so their weights will naturally vary as well.
When moving to and from the bath, it is important to use a show chair that comes with locking casters to keep slipping, accidental falls, and injury at bay. Other models and makes of bathing assistive devices like this don't have wheels in them. Instead, they rely on slip-resistant leg covers to keep it somehow stable and thus prevent unnecessary movement.
When it comes to picking a chair, your body weight and the weight of the chair you are planning to have are major factors of concern. 
For people who are in doubt if they will be capable of lifting or moving a chair in and out of the shower area, the aforementioned options are widely accepted and practical alternatives. 
Design: Should You Go For a Recumbent or Upright Shower Chair? 
The ability to lean back in their shower chair or to obtain firm back support is crucial for many users. Having the ability to lean back will significantly help them with their daily bathing concerns, especially for those requiring support from a caregiver.
The majority of shower chairs on the market today have recumbent elements. This comes in the form of elevating leg rests and reclining backrests. 
Wrapping Up!
Buying a shower chair makes sense if you seriously want to create a safer, more secure, more comfortable bathing experience for the elderly members of your household or anyone with mobility/balance issues for that matter. 
It gives them some peace of mind knowing that they can do their business in the bath/shower area on their own sans any worries of accidental slips or falls. Though there are instances that it will not necessarily take away the need for assistance, these assistive bathing devices also give them a sense of independence in a way. Now that is helpful for their mental well-being. 
People looking for a dependable plastic shower chair with arms can rest assured that there will be a model and make that is best suited to their specific needs. We will attribute this to the range of styles, formats, and sizes that are presently available in the market for assistive bathing devices today.